I've owned Ford F-150s my entire life. I love them! It was my second car that was handed down from my dad, to my brother, then to me. I've owned 3 others since and I've never had an issue with them. I've also never really used them to their full potential…
I'm sure you've seen all the truck TV commercials where they throw boulders and outrageously large steal beams in the back of these trucks, or dropping them for no reason. They also show them towing massive construction equipment that you know you'll never have to or need to pull something that big. For some reason it make us feel safe that in case we ever need to haul Jerry's bulldozer that's stuck in mud somewhere we can do it!
"Don't worry Jerry I got you!"
If you are like me, you use the truck for throwing sticks and branches in when doing yard work, or you put some wood in the back every once in a while when you need to do a manly thing or two on the house. If I was being really honest, the inside of my truck is kept super nice outside of the goldfish crumbs and car seats in the back from my boys. There isn't much mud or dirt from doing the tough duty.
Until this weekend…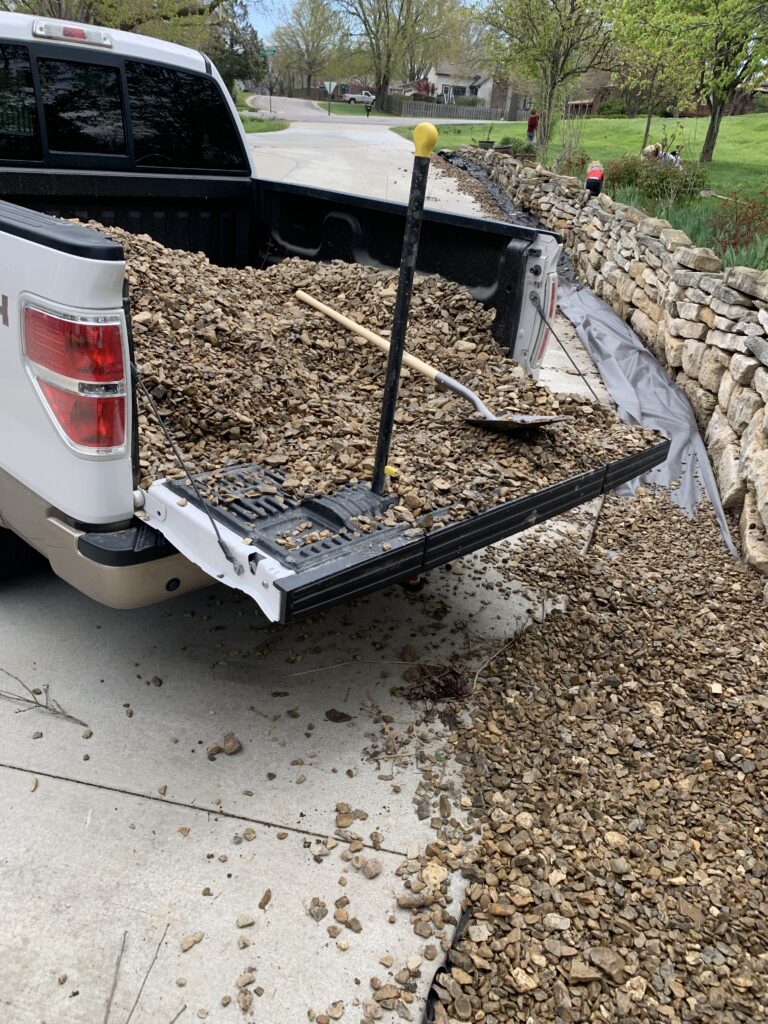 This weekend I needed to redo some rock landscaping and I needed one cubic yard of rock. I didn't know how much a cubic yard of rock was until they started loading my truck up. When they proceeded to dump two bobcat buckets full of rock they asked me "you sure your truck can take this," to which I responded with "I don't know, but let's go for it!"
Why not? It works in the commercials!
It took it like a champ and we took home over 2,000+ lbs of rock safely.
This story got me thinking about what is happening right now during this pandemic, market down turn, and our current quarantine we are in for financial advisors. Up until now, things have been pretty good. I might even say they have been out of this world. The market kept hitting new highs almost every month. We were on a 12 year bull run and things were doing good.
Marketing was simple…
You used to send out invitations, you would catch people at the right time, you would show them a plan which is better than anything they've ever seen (no offense, but they haven't seen too many others) and you brought on new clients.
You were an F-150 with all the potential, but you were using your 3,000 lbs of hauling capability to pick up the kids from school and grab groceries. Safe, but not living up to your full potential.
Now, things are different. People need the 3,000lbs of retirement planning that you can provide, but they are scared. You've been picking up kids and hauling a couch or two for the last 12 years, how do they know you can handle this?
Things aren't as easy now picking up new clients. Retirees are skeptical, worried and frozen.
Marketing isn't easy now either. It's hard to get people to move because they have never experienced anything like this. Neither have any of us, but you were built for this.
Making the "sale" is tough. People want to "wait things out" and see what happens. Which in most cases, you know that's not the best decision if they are near retirement.
It's time to show people what you can do…
Time to show them the 3,000 lbs of payload you can take, and the 10,000 lbs of tow capacity you were built for. It's not the time to take those objections and just say "Ok, I'll keep in touch."
This isn't the time to let them make bad decisions. You need to be in their face, annoying, and letting them know, "You are deciding between staying in the market and sitting in cash. You are thinking about it all wrong! There are other options…I can help you."
They need you…show them they need you.
They aren't convinced.